This item takes 4-8 Weeks to ship.
Blue stained figured maple cue with black framed white and black points and blue pearl inlays. Matching inlays in butt sleeve. Irish Linen wrap.
Standard Tip: Medium Tiger Emerald Tips
Joint Type: Flat-faced
Joint Collar: Juma
Joint Size: .850
Shaft Taper: 10-12" Pro Taper
Pin Type: Pechauer Speed joint
Ferrule Length: 5/8 inch
For custom engraving, please call  800-934-7735.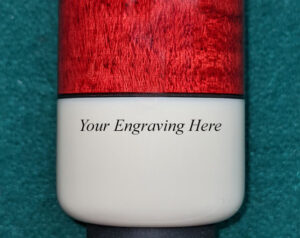 JP21-S