SANTA JOE IS COMING TO TOWN!
Let's make Santa Joe's job a little easier this year by showing him exactly what you want! Customize your very own cue and receive a chance to win amazing Pro Series N cues every week.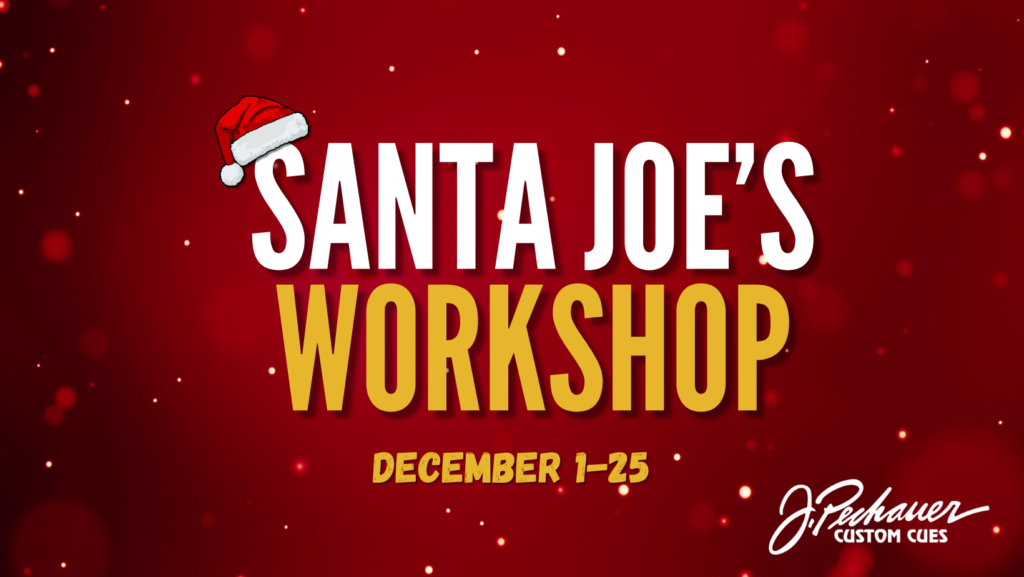 Testimonials
Absolutely perfect
I received the package.  It has been a long time.  I almost shed a tear when I took her (my new cue) out of the box.  So many memories.  Thank you so much.  She's absolutely perfect.
Shane B
An absolute visual delight
An absolute visual delight and a pleasure to play with. You have delivered a great job. Many, many thanks. Best regards for you and your team from Germany.
Heinrich H from Germany
Excellent
Thank you and your team again for an excellent experience. As someone whose job demands excellent customer service, you and your team serve as a great example.
Rob K
Wow!
I got my new cue and had an issue with the shaft. Wow, was I shocked at the customer service Jon the representative and your company are great. Jon got right on it helped me ship it back to your company, checked out the issue found it, fixed it and returned my cue. Now I love my cue. I cannot thank Jon and Pechauer enough. Thank you so much for fixing the problem and being so wonderful about it. You have made me a customer for life because of your customer service and my lovely cue. Pechauer in my opinion represents what is right in the World of Billiards.
Stormy A
Can't thank you enough
Cue came in the mail today. It's absolutely beautiful. It truly came out better than I could have hoped for. Please thank everyone who was involved. Can't thank you enough. Look forward to working with you on a project in the future. Thanks again. All the best.
Matthew B
A customer for life
I ended up purchasing your cue after a good recommendation from a very good friend of mine. After special ordering it, never having shot with a Pechauer cue, I can say I will be a customer for life. The craftsmanship is flawless, and the low deflection shaft is the BEST low deflection shaft I have ever shot with! Just wanted to drop by and send a message that after 6 months, I am still excited to play with this cue, and thank you for making such a high quality and performing product!
Steve Z
Just fantastic!
When I unwrapped it I couldn't believe my eyes. The retired Lamorak that came out of retirement was more than I could imagine.  It is an amazing, beautiful cue.  Just fantastic!!! The ebony used has no light shades of brown running through it anywhere.  It is just a phenomenal unique piece of smooth black wood.  And even better is the curly maple that was picked out for the wrap.  It is just a wonderful addition that makes this cue even more a collector's item. I want to thank you for taking the time out to spend as much time as you did to make sure that I was totally satisfied.  Allowing me to exchange the first cue was totally unexpected and speaks volumes for your great customer service.  That is why I opted to purchase another cue from you instead of getting a refund. I couldn't be any happier with my choice here and the fine workmanship and accurate weight that I requested.  This cue is everything I wanted, and more. You have a customer for life with me.
Rob R
Plays exceptionally well! 
I just wanted to take a minute to say thank you.  The cue is beautiful and plays exceptionally well!  It's just as I imagined it to look too.  Thanks for working with me on the smaller details.  This will be my player and show piece for a good long time.
Nick J
Phenomenal
I received my cue on Friday and I just had to touch base, phenomenal job. This is my first Pechauer cue and I'll definitely be a returning customer. Thank you all so much. Tell whoever the cuesmith was that built my cue that they did a flawless job!
Nick A
You all are best in the business!
I've had my new Limited Edition HOLLYWOOD cue for 1 day now & wow!!! I just wanted to thank for your commitment to excellence & great customer service. You all are best in the business!!!
Exceeds my expectations
I received my cue today and I wanted you to know it exceeds my expectations, and I'm exceptionally pleased with it. I have 15 Pechauer cues in my collection now. All of them are exquisite and play very well. Although I'm an amateur, Pechauer cues give me confidence when playing. I actually met Joe in person some 15 (?) years ago at a tournament. He had jet black hair then 🙂 Joe was manning the Pechauer display in the vendors area. After much discussion with Joe I purchased an upscale version of the JP14 with black (ebony?) points and some gorgeous wood grain. Needless to say you have a fan in me. Thank you for continuing to craft my favorite cues.
Jim B
Special gift
We will honor and cherish this special gift for years to come, as many present and future clients will have the pleasure of enjoying the cues knowing they were sculpted with The Mission and them in mind. Going that extra step to make the men here feel special is just the thing needed to show them that individuals all over, no matter what they do are rooting for their new life choices and future accomplishments.
Terry M
My favorite
With my last Pechauer, I ran 128 balls and with the new Pechauer and I didn't miss one ball in about 45 minutes. Pechauer pool cues are my favorite now.
Alex M
Easy to love your cues
I wanted to take this time just to send a note of thanks. I am a player from Illinois that has played just about every cue out there. Your cues are always very consistent in the way they play and always look great. In my opinion the best cue for the money. No other custom cue maker offers as much cue with affordability. Again. Thanks for making it easy to love your cues.
Rusty S
Excellent product!
Thank you for getting back to me. Excellent product! I've used it every day since it arrived!!!! I've also used the breaker cue I bought from you not to long ago and it too is an excellent product!!!! You all are the best!!! THANK YOU!
Jake B
Above and beyond
I just wanted to take a quick minute of yours to thank you for all you have done for! It doesn't and will never go unappreciated. My new cues are phenomenal and are the best change to my game already in just a few hours of play. Pechauer's low deflection shafts are the best I've ever had the privilege of playing with and believe me I have played with most. But the consistency Pechauer has given me now, with all shots throughout the game, is with no doubt above and beyond all the rest hands down. My confidence is all Pechauer! My only regret is that I didn't make this change much earlier.
Darrin F
Unbelievable
Steve, that cue is unbelievable!! Great job! The natural stain lets the wood show more shades of color. I showed my wife, she is not into pool, but she was so impressed, that is a treasure I will keep forever. I am not even going to chalk it up. I don't want to make any marks on it. I want to thank you guys, that was a fantastic job, I cannot tell it from brand new. As we discussed this must have been a prototype because the P15 from those years had a maple butt, not ebony wood like mine. This makes it even more special to me. I have already started spreading the word about your service and will continue to do so. I can't take my eyes off that very special cue, thank you so much.
Mike F
An honor
I've seen a lot of cues in my life and this one truly catches one's eye. The combination of marvelous design and exceptional playing characteristics makes this cue the Cadillac of all the cues. It's an honor for me to represent your company with it. I would also like to convey a thank you from my friend who recently became an owner of a P18-F model. He says the cue helped him to move his game up to a new level and revealed shooting capabilities that previously seemed impossible.
Andrei V from Russia
Piece of art
I received my new custom cue and I hope you took a picture of it because it looks like a piece of art! I was afraid to shoot with it because it was so beautiful that I didn't want to hurt it! After staring at it for a while I realized "I have to shoot with it" and I don't know if I was more impressed with how it looks or how it feels!   It felt better than any cue I've ever shot with in my life, it feels amazing!  It is so well balanced and feels so soft when I hit it but has such effortless power, every shot felt like it was in control and the consistency is remarkable! Thank you to all who had a hand in making this cue for me; It is a remarkable piece of craftsmanship!
Roger J
Great work
I have owned many different cues including ******, *********, etc. and have to say my Pechauer is the best hitting cue, best preforming cue I have ever had. I am going to purchase another Pechauer in the near future, please keep up the great work that you do.
Walt R
Piece of history
You are a brilliant artisan. May your stunning work live through the ages! I am proud to say that I own a piece of history
Tasos T
Better than I could have imagined
I received my repaired cue and it is far better than I could have imagined. The cue looks perfect like it is a brand-new cue.  In fact, people at the pool hall last night could not guess how old the cue is, not bad for a 16-year-old cue.
Richard W
Couldn't be happier!
I am a lifelong wood worker. I have made a living manufacturing custom, traditional archery equipment and inlayed handgun grips. I know superior wood craftsmanship and finish application when I see it. After handling and playing with my girlfriend's new Pechauer cue I was instantly sold on your cues! ******** was great, and without any problems exchanged your competitor's cue, again, and upgraded me to one of your Pro Series cues. I cannot tell you how much I love it! Fit and finish… Perfect! Your quality of curly maple… Awesome! The cue's hit… EXACTLY what I like! Value… Couldn't be happier! Keep this up and you have a loyal, lifetime customer.
Andy J
Love every detail
I have been playing nonstop with the cues and love every detail.  I can't think of one thing I would change.  I find it amazing that you nailed everything with our conversations over the phone.  I love the way they play and love every bit.  Just last night I strung together a three pack in 8 ball to win my match.  I can't thank you guys enough, you were amazing to work with and I'm sure I wasn't easy.  I've had a lot of people ask about them as well.  I'm doing everything I can to get more people to order some American made Pechauer stuff.  Sincerely thank you, this is amazing to have something I imagined in my head come out so perfectly
Pete M
Outstanding
Joe, it has been a year since you made the Green African Crocodile wrap cue for me. Your suggestions transformed my little idea into an outstanding cue. The Green African Crocodile wrap is flawlessly mounted with the ring work. Ivory inlays in the Malachite is an unexpected surprise. Something special when a year later I can truly say my appreciation for the craftsmanship for this cue has increased over time.
Doug W
Bending over backwards to satisfy a customer!
The cue is beautiful; it plays really well! Thank you again for bending over backwards to satisfy a customer!
Dale B
Finest cues I have ever seen
I am ecstatic to say the least. My client is extremely happy as well. These are the two of the finest cues I have ever seen. Can't wait to hit them.
Alex G
Great pool cue
Money can't buy you happiness, but it can buy you a great pool cue that I'm happy with!
Rich C
Simple, elegant, precise
I wanted to take the opportunity to say what an outstanding cue the JP Series (L Series) – JP USA-NW is. I purchased one a few weeks ago and it rocks. Simple, elegant, precise and made in the U.S.A. I had the tip upgraded to a soft. It is rare that a product exceeds my expectations. Yours does.
Doug P
Hits better than anything
This cue hits better than anything I have hit with in years…maybe ever and I have hit with *******, *****, *******, and lots of other 5/16×14 SS joint cues. Your dedication to providing a superior product is appreciated.
Daniel W
Blown away!
I am blown away with the playability and fit and finish of this cue. It is by far the best cue I have played with, and I have played with what some consider to be the best and I am 100% satisfied with my choice.
John H
Exceeded my expectations
At the tournament I looked at all the vendors cues. Not a single cue there had a wrap that matched the quality of the wrap you put on this cue. Exceeded my expectations, I appreciate the change from 4 Malachite inlays in the butt, to the 5 Malachite inlays with each having inlays inside the Malachite. The more you look at the cue more you appreciate it.
Doug W
All American
Hello and thanks for making an AMAZING cue! This is my first personal cue ever (after using house cues for about 30 years) and I wanted to do it the right way so Pechauer was the only choice for me. The way my JP-05 hits is wonderful (and it's AMERICAN)!
Jon D
Work of art
I am writing you to express the inexplicable satisfaction that I experienced when both seeing and playing with my recently produced cue.  It is visually stunning and the decisions that we made turned out to be even better than I expected.  I have always been impressed with Pechauer and their dedication to their work, but this has set a new standard for me.  I just wanted to express my opinion to you all as a work of art, design, and function like this one deserves to be commended.
John K
Sharpest looking cue I've ever seen
I've held many a fine and playable cue in my day, but the cue you custom made for my cousin, Dan W, has got to be one of the sharpest looking cues I've ever seen. The joint protectors, as they 'pop' out of the case, wow, it sets a man back! Now, all I have to do is talk him into selling it to me!
Scott M
The feedback from everyone was phenomenal
I wanted to let you know that I personally have been using one of the new Pechauer break cues and I absolutely love it.  I took it out with me last night and let several people playing with us use it.  The feedback from everyone was phenomenal.  One person even made the eight ball off the break which he has only done one other time in his life.
Casie Z
We wouldn't dream of shooting pool with any other cue
My husband and I have had Pechauer cues for some years now, having tried other types and being let down time and again.  My husband is Active Duty Military and we just returned to the US from a 5-year tour in England.  Of course, we took our cues with us…and wherever we went in England, people just LOVED our cues. Your cues traveled very well on all the flights we've taken them on, never warping or breaking (of course, we take extra protective measures with hard cases and joint protectors).  We wouldn't dream of shooting pool with any other cue on the planet. Thank you for making such a sturdy, beautiful cue.
Shannon H
Hit like a dream
After many months of debate, I recently purchased two Pechauer cues.  I had done a great deal of research and decided on your company due to testimonials and your straightforward website.  I received them both this week and I must say that they are even more impressive in person.  They're absolutely stunning and hit like a dream.  I really didn't think that something would be able to charm me away from my tried and trusted cue, but your product is fantastic.
Adam M
You are truly a master at your craft.
I just purchased my first Pechauer cue. It's the most impressive quality I've ever seen. You are truly a master at your craft.
John S
THE BEST CUES IN THE WORLD
I will never ever shoot with anything else. You have my business for life. I just thought I would drop by and say YOU GUYS MAKE THE BEST CUES IN THE WORLD!
Daryll W
Saving for another
Just wanted to drop a note saying how pleased I am with my recent purchase. The difference in the hit is quite evident when compared to the cues I had been using. I am now saving up my pennies and nickels in order to purchase another of your cues. Thank you.
Jeff J
I will forever be a Pechauer customer
Just wanted to thank Steve for making my pool room complete. Your company has always exceeded any and all my expectations. For this reason, I will forever be a Pechauer customer. You have a first-class product and a first-class staff, keep up the good work.
Bart J
Performs beautifully
I received my cue today and want to thank everyone involved in the wonderful service I received. The cue is perfectly straight. The cue performs beautifully, and I am more than satisfied with the results.
Phil L
I play exclusively with this cue
When I first noticed one of your cues, I immediately purchased it and have since sold all my other cues and play exclusively with this cue.
James K
QUALITY
I have been using Pechauer cues for three years and have to say that the quality of my cue makes it one of the best cues I have ever shoot with.
Jeremy H from Nebraska
Best playing cue I own!
I took the cue out to play last night and I am still a bit in shock, it is the best playing cue I own! Usually I need a few hours to get used to a new cue, but this one just fits like a glove. It
is one of only a few cues that feel lighter than its actual weight, which I find is always a sign that the cue is balanced right.
Joerg
TREMENDOUS
Many times, I have inspected this cue and I am still amazed at the excellent selection of the wood. That piece of Kingwood enhances the detail of the inlays tremendously. I spent weeks searching exotic woods on the internet and I could not have been more fortunate that you had this piece in your shop.
Douglas W from Montana
AMAZING
The work you did is amazing.  It does not go un-noticed when I am out and about.  It makes for a great ice breaker and an opportunity to plug your products.
Nikolaos from Michigan
BEAUTIFUL!
The cue arrived and I just have to say it is BEAUTIFUL! It came out better than I imagined. I just wanted to thank you for all your help in making this beauty! Thanks to you and to everyone at Pechauer
Avi from Illinois
GEAR UP FOR THE GAME
From cues to break shafts and accessories, we've got your covered!